Articles
Norberto Ávila. "Açórico roteiro abreviado." In Percurso de poeta.
Lisbon, 2000, pp. 41-69. Translated by Katharine F. Baker & Emanuel Melo

"Ilha das Flores, um Mundo de Sonho" – Victor Rui Dores

Defoe no Corvo / Defoe on Corvo. Bettencourt, Urbano: Que Paisagem Apagarás. Ponta Delgada: Publiçor, 2010, pp. 43-44. English translation by Katharine F. Baker and Bobby J. Chamberlain, Ph.D., University of Pittsburgh (Pennsylvania). Portugal original also published online 


"The Pirate from Flamengos," by Victor Rui Dores
Translated by Katharine F. Baker

"São Jorge, the Unknown Island," by Onésimo Teotónio Almeida. Translated into English by Katharine F. Baker and Bobby J. Chamberlain, Ph.D. Originally published online – 17 Aug 2013


A Story of Portuguese Immigrants in Toronto and a Yellow School Bus 'Apanhar Minhoca'
Stories gathered by Ralph Blank, U of T (PRT252 – Portuguese Island Culture). December 2015.

Immigration to Canada: An interview with an Azorean-Canadian
Interviewer: Anna Yamashita
Interviewee: Filomena Cavaco Yamashita
Toronto, 2016.

Melo, Emanuel. "What I should have told my father before he died: A Reflection on loss and redemption: a leaving (Azores) and an arrival (Canada)." Toronto, 2010.

Melo, Emanuel. "Coming to Canada." Toronto, 2008.

Melo, Emanuel. "My Life as a Portuguese Newspaper Delivery Guy." Published in 'Twas (Toronto World Arts Scene), Volume 8, issue One January/February 2004.

Simas, Richard. "Walk Back, Look Ahead, a Chronicle." Montreal, 2009.

Baker, Katharine F. "A Tale of Two Grandchildren: The Quest for My Hidden Azorean Heritage." Avòs e Migração: Raízes e Identidade. Organização: Manuela Marujo, Departamento de Espanhol e Português/Universidade de Toronto. 5-13

Marques, Domingos and Marujo, Manuela. "Chapter Two: Opening the Door: A Photographic Essay." With Hardened Hands: A Pictorial History of Portuguese Immigration to Canada in the 1950s. Etobicoke: New Leaf Publications, 1993. Selected Photographs: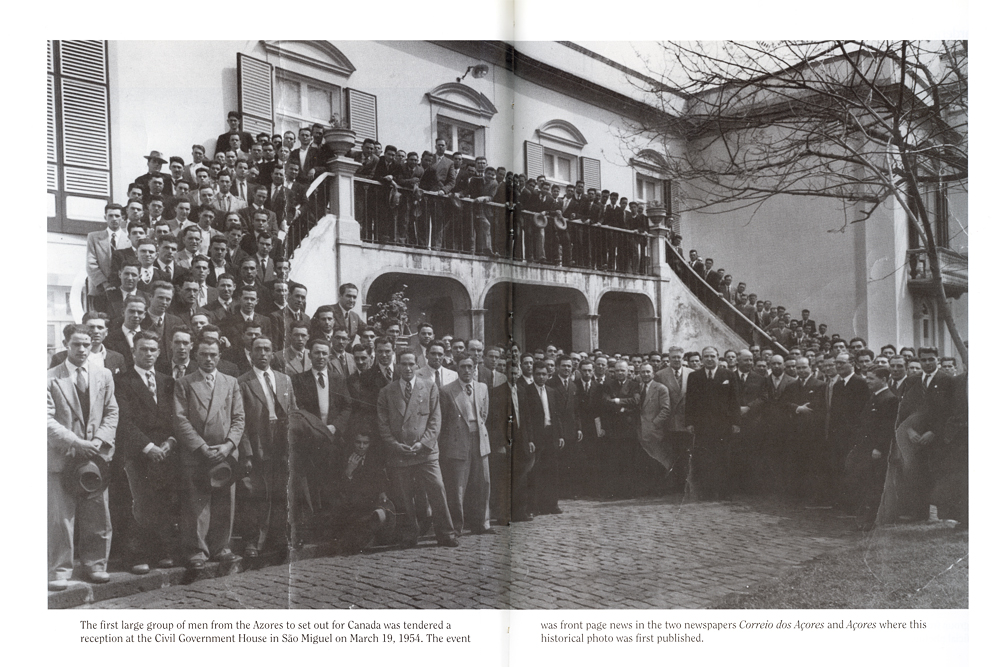 The first large group of men from the Azores to set out for Canada was tendered a reception at the Civil Government House in São Miguel on March 19, 1954. the event was front page news in the two newspapers Correio dos Açores and Açores where this historical photo was first published.
Photograph #1 (top):
"Before boarding the S.S. Homeland, A group of Azoreans from Ribiera grande disctrict say farewell."
Photograph #2 (bottom):
"A group from Horta District – Corvo, Flores, Faial and Pico islands – pose for an official photograph before departing from São Miguel."
Marques, Domingos and Medeiros, João. "Chapter II: Stories Told by the First Immigrants." Portuguese Immigrants: 25 Years in Canada. Toronto: Marquis Printers and Publishers Inc.,1980.